Addis Café began as a community-minded Ethiopian coffee shop in 2016, and quickly became an established local favorite in the village of Oak Park. After much success over the last 6 years, co-owners Kalkidan Tesfaye, and her husband, Michael Kumela, made the exciting decision to expand their business and relocate across the street to 801 Van Buren Street. The new location, constructed by The Community Builders, was built out to include a full kitchen on-site thereby allowing the entrepreneurial couple to expand their café menu offerings to one day serve authentic Ethiopian dinner fare. Upon their grand re-opening on July 30th, 2022, the on-site kitchen has brought with it a plethora of opportunity to shop, and ability to better service food orders to the community they love. This Ethiopian go-to breakfast spot is known for their delectable menu offerings, including decadent waffles, specialty coffee drinks, smoothies, and a variety of breakfast food options. Their seasonal Chechebsa is an authentic crowd favorite, described as a classic Ethiopian breakfast dish made of fried bread crumble, warm Ethiopian Berbere spice, basil, and honey drizzle.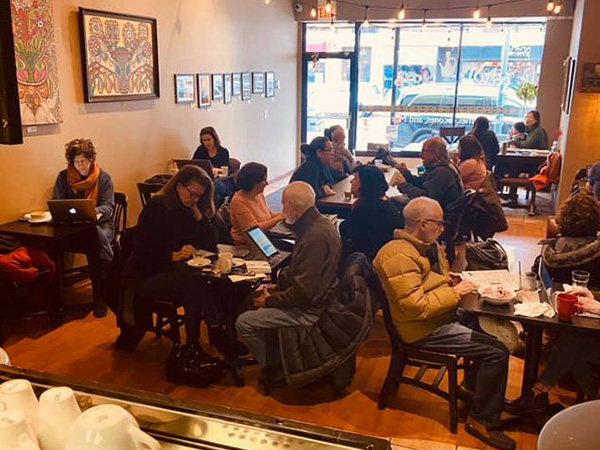 Tesfaye, know to most as Kalki, is a passionate chef and a native of Addis, Ethiopia. Prior to opening Addis Café, Kalki worked alongside her brother for 11 years operating an Ethiopian eatery, Addis Restaurant, in Berkeley, California.
Kumela, Kalki's now husband, owned a coffee shop at 818 S. Oak Park Ave. Michael and Kalki were brought together after she offered him some of her homemade scones, and in return he offered her partnership of the coffee shop. Shortly thereafter, they went on to open Addis Café and have been successful co-owners of the café for the past 6 years.
While their original location afforded them the ability to service drink orders easily, they were limited by their space as it lacked a full kitchen on-site. After impressively operating on little more than an induction burner for years, they were approached by The Community Builder's with an offer across the street. This new location would give them the full on-site kitchen they had been craving, and made their hopes of adding Ethiopian dinner options to their menu a viable reality. After an overwhelmingly positive response to several pop-up dinners featuring her Ethiopian cuisine, Kalki made the decision to seek the more permanent solution. This new space is equipped with industrial appliances, a professional ventilation system, and has been fully fit out to accommodate their current and future needs.
Now empowered with a full commercial-grade kitchen, Kalki has described her plans to serve her coveted Ethiopian meals Thursdays through Sundays, featuring items such as Dorowat, the national dish of Ethiopia, and several authentic Ethiopian vegan and meat dishes.
The outpouring of support from the community to the restaurant's development has been tremendous. Many customers in the community came together to help Addis Café move into their new space, carrying tables, chairs, and local artwork across the street while several musicians offered to entertain. Kalki has described her customers as, "like family to me," and she has gone the extra mile to ensure customers are comfortable as they adjust to the new space. The new menu encompasses the importance of tradition and togetherness, with shared dishes designed as a means of bringing people together. As plans are finalized to begin serving the new menu and the customer support continues to pour in, one theme has remained constant: Addis has always been designed with community in mind.
Featured article by Chloe Wright
Contact us to learn more about growing your own business with TCB.